We are currently developing this site. For more information regarding our services, please contact us.

A 360° View for Remote Monitoring & Surveillance

The iVss 360° Camera is especially designed to be used in remote monitoring and surveillance systems, and is gearing towards replacing some of the conventional security systems available now. Using high technology and intelligent software, the iVss 360° Camera boasts of the impressive capabilities that enhance the traditional implementation of other conventional digital cameras.

Unlike conventional digital cameras, the iVss 360° Camera is a solid – state camera which contains no moving parts. Yet, this impressive and easy-to-use iVss 360° Camera provides not only 70° or a 180° of view angles, but a 360° super wide-span view. The camera, without any movement of the camera and lens, is able to record the surrounding environment in a 360° view instantly.

| | |
| --- | --- |
| | Better features, functions and higher resolution at lower cost |
| | Images a full 360 degrees in one operation |
| | Supports pan, tilt and zoom without mechanism |
| | Focus adjustment for distance not required |
| | Images the whole surround area with small convex lens |
| | Displays Instant Panoramic View on ONE Screen (100% TVA) |
| | Minimum Cabling Requirement |
| | Never miss movement within 360 degrees of camera location |
| | Zero Maintenance; No Moving Parts. |
The features of the iVss 360° Camera exceed that of the conventional cameras. The camera can be installed as a stand alone unit or integrated with other conventional cameras to provide customers with maximum flexibility.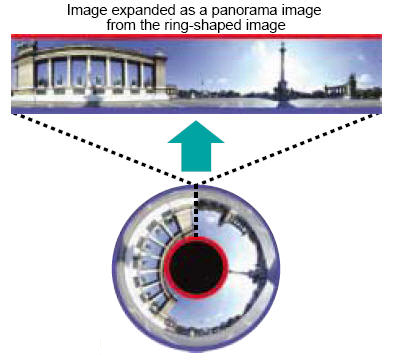 The panoramic view provided by the camera, its built-in "anti-gray" function, its ease of configuration and installation, and the cost saving over multiple conventional cameras installation and maintenance free operation are some of the benefits only the iVss 360° Camera can provide.
With these benefits, iVss 360° Camera is an unprecedented and pivotal innovation that is ideal for wide variety of applications, such as monitoring of large areas or as a surveillance system for buildings, offices, warehouses, chain retail stores, hotels, hospitals, schools, and many other

Remote monitoring is also possible through local network or via the internet. The development of the iVss 360° Camera heralds a step towards a more efficient and integrated alternative to conventional monitoring and surveillance systems.
iVss General Features

| | |
| --- | --- |
| | Object Detection & Definition |
| | Event Based triggering and recording |
| | Individual Camera Definable Settings |
| | Playback of Recorded Information |
| | Alarm Triggering |
| | Administrator Function |

Since the ring-shaped images taken with the full-circle 360° camera look odd when viewed directly, they must be converted to more pleasing panoramic images. The captured ring-shaped image is converted by the iVss software on a PC to a panoramic image and output. The software provides flexible processing that can support a wide range of variations, such as pan, tilt, and zoom functions. If the PC is connected to a network, only the required sections of the images can be transmitted over the network.
General Monitoring

Surveillance System